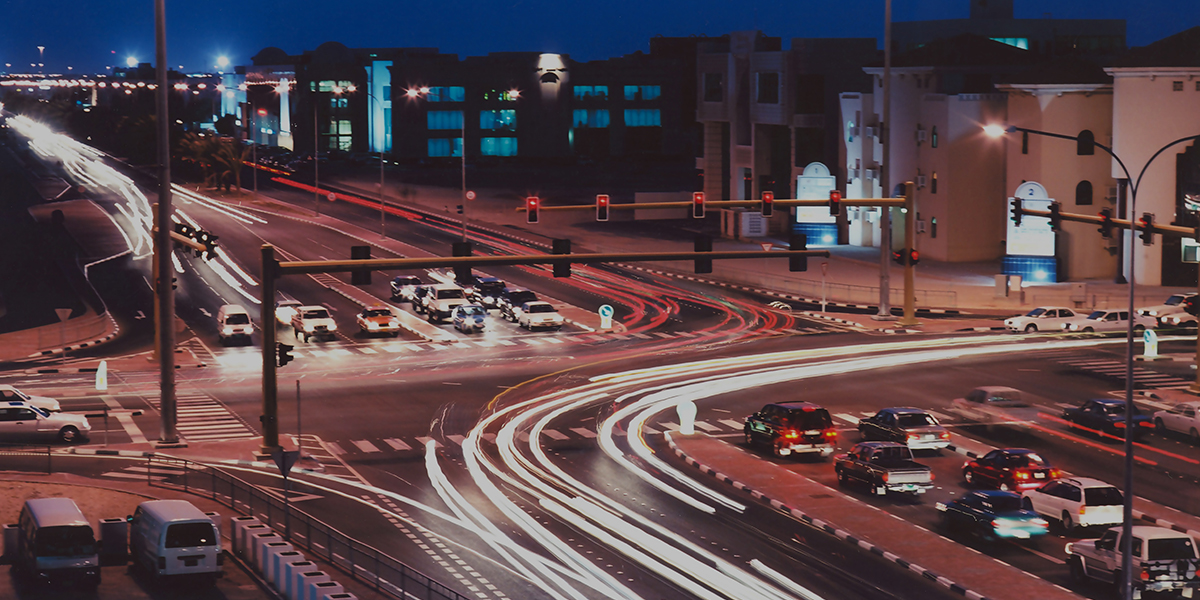 Traffic Signals & Urban Traffic Control (UTC) Systems
With hundreds of traffic signal installations in Qatar, Bahrain, Saudi Arabia, Lebanon, and Syria, Traffic Tech's Traffic Signals and Urban Traffic Control Systems play a vital role in the region's transport infrastructure development.
hundreds of traffic signal installations
We are the region's leading professional partner in providing turnkey solutions in:
Road Intersection Design
Signal Analysis & Design
Traffic Signal Installation
Design, Installation, & Operation of Complete Urban Traffic Control Systems
Maintenance & Operation of Traffic Signals and UTC Systems
We partner with highly specialized suppliers to offer the market with advanced equipment that include:
SCATS® Adaptive Urban Traffic Control (UTC) System
Traffic Signal Controllers
Traffic Signal Heads
Vehicle & Pedestrian Detectors (in & above ground)
Traffic Signal Poles & Gantries
Control Room Equipment
Road / Railroad Crossing Control Equipment
VIP & Emergency Vehicle Preemption Systems
Bus & LRT Priority Systems
Intelligent Pedestrian Crossing Solutions
School Zone Traffic Safety Solutions
Airport Signaling
From a simple road junction to multiple and complex intersections, our clients tap on our expertise in developing optimum traffic signal designs.
We leverage on our unique advantage of having highly specialized team of engineers, equipped with vast knowledge gained through years of experience in traffic engineering.
We have the capability to recommend all the necessary components, ducting details, cabling layout, and traffic signal phasing for any type of intersection.
Other than designing our projects, we also offer our design services to consultants/urban planners.
With increasing vehicle volumes in the Middle East, vehicular accidents and traffic jams have been an ongoing challenge, mainly because of the large number of roundabouts in the region.
As a solutions provider, Traffic Tech takes pride in developing a "unique roundabout traffic signal design" with a capability to display a flashing yellow phase. Considered the only one of its kind worldwide, this gives motorists an additional semi-go phase (proceed with care) at each approach, reducing vehicle build-up in all directions.
We have successfully signalized more than 20 roundabouts in Doha-Qatar since 2006.
Urban Traffic Control (UTC)
Our award winning urban traffic control (UTC) system enables efficient traffic signal phasing of multiple intersections.
UTC provides road users with benefits such as:
Reduced number of stops
Reduced travel times
Significant fuel savings
Traffic Tech implemented Urban Traffic Control (UTC) System project in Doha-Qatar where project have attained the implementation of main Intelligent Transportation System (ITS) building blocks, adaptive traffic signal system and CCTV surveillance system.
Sydney Coordinated Adaptive Traffic System (SCATS®)
SCATS® is the most advanced and widely used fully adaptive urban traffic control system on the market today. Its real-time response to changing traffic conditions ensures the most appropriate traffic signal phasing to safely direct traffic through intersections. SCATS® uses real time traffic adaptive approach to urban traffic control by measuring current traffic condition and adjusting Cycle Lengths, Splits, and Offsets.
Features and Benefits of SCATS®:
Detects real time changes in traffic flow and adjusts timing parameters constantly to match changing traffic patterns and achieve optimized operation.
User friendly Graphical User Interface (GUI) that allows for easy operation.
Hierarchical structure of signal control facilitates a "modular" approach to system expansion.
Can be upgraded or expanded to meet changing requirements.
Other applications can be integrated into the system.
Provides details/reports of traffic flows for other planning purposes.
SCATS® enables a hierarchical system of fall back operation in the event of temporary communications failure. Such equipment faults are monitored by the system.
VIP & Emergency Vehicle Preemption System
VIP & Emergency Vehicle Preemption System allows traffic lights' normal operation to be preempted to provide safe passage for emergency vehicles at intersections.
Normally on standby mode, the system triggers priority phase once it receives an emitted signal from emergency vehicles equipped with a preemption emitter.
The system is available in Infrared (IR) based system and the more advanced GPS based system.
The GPS based system delivers reliable, accurate emergency vehicle preemption from greater distances in a wider range of environments – including around corners and at intersections with obstructed views. It leverages GPS technology and highly secure radio communications to deliver unmatched precision and superior management to help emergency responders move through intersections more quickly and safely.
Provides immediate green light or right of way on intersections.
Can be used by VIP or emergency vehicles such as fire trucks and ambulances.
Equipped vehicles have an emitter that broadcasts infrared (IR) or GPS signal to a receiver which is mounted on or near the traffic signal.
The system can be integrated into an intersection traffic signal controller or into a complete UTC (SCATS® controlled).
Preformed Loop Detectors are designed for installation into hot asphalt overlay, concrete overlay, cut-in, or as a temporary above ground "stick-on" loop detector. Preformed Loop provide cost-effective, reliable installation in harsh environments.
Preformed Loop cable has multiple application, e.g. road crossings (with traffic lights), highways, car parking, traffic counting systems, speed detection etc.
Features & Benefits of Preformed Loops:
10 year manufacturers warranty on Preformed Loops
Factory dimensioned to avoid costly mistakes
Factory assembled for number of turns and wire gauge
Wires protected by high pressure / temperature conduit
Entire conduit injected with water blocking material
Faster installation means increased overall job efficiency
Excellent detection capabilities.
Traffic Signal Maintenance & Operation of UTC System
Traffic Tech offers complete maintenance and operation services of traffic signals and/or urban traffic control system.
Our maintenance and operation scope includes:
Routine maintenance of all traffic signal equipment and accessories to ensure normal day-to-day operations.
Scheduled preventive maintenance that includes cleaning and painting of traffic signal poles, signal heads, controller inspection chambers and other accessories.
Call-out services – Fault call from concerned authorities and accident remedial works.
Modification works of traffic signal based on current requirements of an intersection.
SCATS® operation and maintenance.
With our decades of experience and a fleet of highly skilled and equipped technicians and engineers, we are considered the "most competent service contractor of traffic signals and UTC in the region".